Monday - April 8 - 2002
Kings Video Teaser!! Check it out! Low Quality
Tuesday - April 10 - 2001
Red Wings SUCK &nbsp
[6:20 PM PST]

Just in time for the first round series... Check It Out
Sunday - April 1 - 2001
Message Board "Forum"
Please use it!! Just leave comments on the Kings or whatever you want really - people aren't posting because nobody is posting... So start posting, and other people will post, and thats how it works see? POST! :)
Wednesday - March 28 - 2001
Too much...
I give up for now... As you can probably tell, it has been a while since I've done any updating. It is just too much to do for 1 person - especially when practically nobody is visiting... If anyone actually regularly visits this site, or even semi-regularly, I apologize for pulling the plug. If anyone feels they could help me out by writing recaps or really anything else, please let me know. Thanks for visiting... Feel free to use the message boards they will always work.
Monday - March 19 - 2001
We're In!! &nbsp
[10:49 PM PST]

For now... The Kings defeat the Phoenix Coyotes 6-2 to move into the 8th and final playoff spot in the Western Conference.
Sunday - March 18 - 2001
More on "The Cat" &nbsp
[11:34 PM PST]

Spotted this article on Felix Potvin's resurgence in L.A. over at ESPN.COM. Check it out!
4 Down, 2 to go &nbsp
[11:15 AM PST]

Rather surprsingly, during the Kings recent 8-1-2 surge, they have drawn only 4 points closer to a playoff spot - mostly due to the excellent play of the Edmonton Oilers. When the Kings traded Blake on February 21st, they were 6 points out of the playoffs behind Edmonton, and they remain 6 points behind Edmonton now. However they are only 2 points behind the Phoenix Coyotes. -Where we stand-
Saturday - March 17 - 2001
WOWOWOWOWOWOWOWOWOWOW!!! &nbsp [3:05 PM PST]
DISCUSS
Kings defeat San Jose in overtime 1-0 on Bryan Smolinski's goal at 0:40. A tight checking, playoff style game turned out to have a dramatic finish, and the Kings move within 2 points of a playoff spot, depending on the outcome of the Phoenix vs. Nashville game. -LA Times-
Thursday - March 15 - 2001
Where we stand &nbsp [10:11 PM PST]
DISCUSS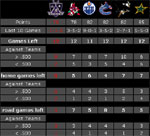 I've created a table containing the 5 teams within reach of catching for the playoffs, be sure to check it out. Things are looking better and better as the Kings keep on winning.
Wednesday - March 14 - 2001
Kings Within Three! Again! &nbsp [10:11 PM PST]
DISCUSS
Thanks to a bit of help from the defending Stanley Cup champions, the Kings inched 2 points closer to a playoff spot with an outstanding effort in San Jose, coming out on top, 4-1. Felix Potvin continued his superb goaltending and the Kings are now 7-1-2 in their last 10. -Full Story-
Fixed The Problems &nbsp [3:52 PM PST]
DISCUSS
Everything should now be displaying normally for all users on all platforms, as long as you have the most recent version of your browser. The color problems were all due to a missing dash (-) in my style sheets. I had been putting "background color" instead of "background-color", which Internet Explorer for windows was able to forgive, but not other browsers.

Also, the frames should now all display seamlessly without borders, and the graphics should line up properly. Please let me know if they do not.
Cross-Platform Testing &nbsp
[2:17 PM PST]

I test my web site with Microsoft Internet Explorer 5.x, on a Windows machine. For the first time today, I saw what it looked like on a Macintosh using Internet Explorer and Netscape. They don't quite look like they should... It SHOULD look like this: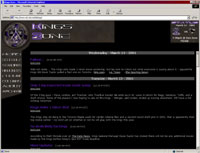 However, Netscape doesn't show background colors correctly, and Internet Explorer for Mac has borders on its frames and lets them be resized, which de-streamlines the graphics. I will work on this and hopefully those of you who aren't seeing it correctly will be soon.
Fallout... &nbsp [9:49 AM PST]
DISCUSS
Well not really... The Kings only made 1 minor move yesterday, but be sure to check out what everyone is saying about it - apparently Kings GM Dave Taylor pulled a fast one on Toronto. -NHL.com- &nbsp -LA Times- &nbsp -The Sporting News-
Tuesday - March 13 - 2001
Only 1 big expected trade made today &nbsp [12:35 PM PST]
DISCUSS
Of the 3 big guys - Peca, Lindros, ant Tkachuk, only Tkachuk moved. He ends up in St. Louis in return for Nagy, Handzus, Taffe, and a draft choice. Some of the players I was hoping to see on the Kings - Sillinger, and Linden, ended up moving elsewhere. Will have a full writeup tomorrow.
Kings make 1 minor deal &nbsp [12:35 PM PST]
DISCUSS
The Kings ship Aki Berg to the Toronto Maple Leafs for center Adama Mair and a second-round draft pick in 2001. Mair is apparently their top rookie center - no word yet on whether or not he will play with the kings this year.
No deals likely for Kings &nbsp [8:45 AM PST]
DISCUSS
According to Matt McHale over at The Daily News, Kings General Manager Dave Taylor has stated there will not be any additional moves made by the Kings before today's 3pm EST trade deadline.
More Updates &nbsp [3:50 AM PST]
DISCUSS
I've completed quite a few more graphics updates - the menu/logo font is now way easier to read, and nicer looking I think. I've also updated the status window to fit in with the rest of the graphics. PLEASE!!! Let me know what you think. I LOVE feedback and don't get a whole lot of it. At least let me know that you were here, and why you will or will not return. Click the DISCUSS links to take you straight to the Forums (Message Boards).
Lindros traded... maybe... &nbsp [2:35 AM PST]
DISCUSS
It appears the unlikely trade may be final. Reports are saying that it is 'confirmed', Eric Lindros and goaltender Brian Boucher will head to St. Louis, in return for goaltender Roman Turek, winger Pavol Demitra, along with defensemen Mike Van ryn and Shawn Hill. I'll have a verification of this as soon as I can.
Monday - March 12 - 2001
The Waiting Game... &nbsp
[5:53 PM PST]

It's a quiet day in NHL news - nobody wants to blink in case they miss a big trade. A small trade by San Jose and Pittsburgh involving small-time defensemen, and a Devils/Islanders goalie swap (Terreri for Vanbiesbrouck), is all that has gone down so far. I'm keeping my eye on things, so check back often for the latest on any trades.
Sunday - March 11 - 2001
Happy One Month Birthday, Kings Zone! &nbsp [4:15 AM PST]
DISCUSS
BOOM! New snazzy graphics. I'm pretty happy with the new look so far. Initially the graphics were much larger, but that would have been unkind to those with slow modems or small screen sizes. The current graphics are designed for a minimum of 800x600 display resolution. The larger graphics looked awesome on my 1280x960 display, but I can't assume everyone runs that. However, in the resizing of the menu, the words got a little distorted making them hard to read - I will take care of this problem soon. I may even change the font altogether - I like it, but I'd love to know what you all think. I also have other plans upcoming - something has to be done with that now totally out of place status window, as well as other added/updated eye-candy around the site. Something also must be done about - my use of dashes. Stay tuned!!
Saturday - March 10 - 2001
Exciting, but disappointing... &nbsp [10:50 PM PST]
DISCUSS
On a night where the teams the Kings are chasing all get one point or less, the Kings can only muster one point of their own after an exciting, 2-2 tie with the Chicago Blackhawks. -Full Story-
Friday - March 9 - 2001
Where We Stand &nbsp [11:20 PM PST]
DISCUSS
As I glanced at the standings tonight, I looked closely and saw a major condensing going on between the final 5 or 6 teams in the playoff picture. Check out what I see.
Business As Usual &nbsp
[8:50 PM PST]

Just a few things for you all to check out - The Sporting News team report was updated yesterday, but I missed it due to all the other things going on.

Remeber Bruce Mcnall? He's gonna bout out in the world again soon - check out the story from ESPN.

Thursday - March 8 - 2001
Kings within three!&nbsp [10:30 PM PST]
DISCUSS
It wasn't pretty, but the Kings played physical, solid, and emotional, and score a big win over Nashville by a score of 4-1. This brings them withing 3 points of Edmonton, who now have a game in hand on the Kings... -Recap-
Highlights Section Online! &nbsp
[9:03 AM PST]

As my birthday present to my 3 site visitors, I have finally got the Highlights section up and running. I will add some highlights from Saturday's game with Detroit, but for now it is starting on Tuesday's game against Montreal. Check it out!
Happy Birthday to me! &nbsp
[6:18 AM PST]

Yes, I am 23 years old today. So exciting... It really opens up countless doors of opportunity. Well it may not sound exciting, but it will be if the Kings decide to win tonight. Lets hope they do eh?

Wednesday - March 7 - 2001
Robitaille Named Masterson Trophy Candidate &nbsp
[1:43 PM PST]

According to a press release today, Kings left-winger Luc Robitaille has been nominated for the Bill Masterson trophy for 2001, by the PHWA. -Full Story-

Tuesday - March 6 - 2001
Kings back on winning track &nbsp
[10:47 PM PST]

In a game that seemed headed for disaster, the Kings hold on to beat Montreal 4-3. They blew a 3-0 lead, but Bryan Smolinski's goal in the 3rd period give the Kings a much needed win. -Full Story- &nbsp -LA Times Recap-

Monday - March 5 - 2001
News Archived
For Older news, check out the News Archive.